---
---
The ONLY Way for an Amateur to Get Perfectly Level, Beautiful and Smooth Tile Floors Like A Pro
As a DIYer, tile is one of those projects that is very difficult to replicate the work of a true artisan/professional. There is lippage and general unevenness, and ultimately you will end up hating the work you did.
If you are working on remodeling your bathroom, shower, kitchen or basement, this tool is a total must!
No more tapping and excessive thinset to make everything lineup. This system is completely foolproof.
You can lay tile like a professional. All of your lineups will be completely flawless and everything will be 100% level with in all four sides of the tile.
Great tools for floor/wall setting. The system ensures flatness between tiles avoiding inequalities.
The Tile Leveling System is reusable, it was easy enough to fix or remove with a special wrench.
Suitable for 3mm to 25mm thickness of the tile, suitable for tile gap ≥2mm.
Helps DIY and Professional tile layers increase the efficiency of laying tiles and obtain a perfect, lippage-free finish.
Improve tile installation speed and reduce installer fatigue/stress. Virtually lippage free, flat surface drastically.
Reduce the need for grinding and polishing.
Prevent tiles from moving while curing.

Re-usable wedges. save your money.
"Dropped a pencil on my tiled floor and it didn't roll...now that's level!"
This tool makes your remodeling project a breeze. It's user friendly and takes all the guess work out of laying tiles.
Easy to use and even a beginner could put down a nice flat floor!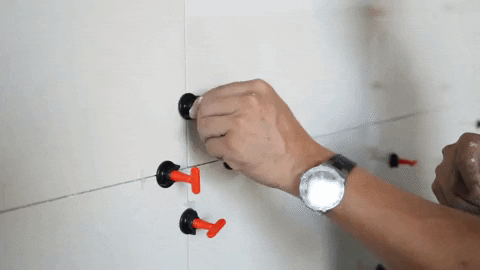 You will finished your first remodeling project in no time all by yourself and it will come out looking like a pro had done it.
Now you can do your bathroom, shower and floors on your own without hiring a professional.These things will make sure everything is level!
Heck! You can even go ahead and say it is the ONLY way for an amateur to get a level floor!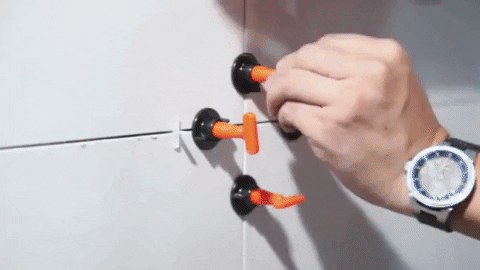 How to Use It?
Lay the first piece of brick, seam ≥2mm or above, and close to second bricks.

Insert the T-pin along the crack, then rotate it 90 degrees, clamp the T-pin at the bottom of the two bricks and tighten the adjusting cover so that the two bricks are in the same level.

BEFORE the cement or tile glue completely dry up (usually no more than 6 hours), tighten the adjusting cover in the opposite direction, then rotate the T-pin 90 degrees so that the T-pin turns to a zigzag parallel to the tile, and then remove the leveller.

Clean and dry storage for reuse. It's that easy!
Specifications:
Material: PP + 430 Stainless Steel.
Quantity: 50 Sets/Bag + 1Pcs Tool.
Suitable Spacer: 2mm-8mm Spacer.
Tile thickness: 5mm-20mm.
Colour: As the picture show.
Package Includes:
50 x Reusable Tile Leveling System.
1 x Special Wrench.
---